"Turn to Turner for Steel"

To make an inquiry or an order please contact one of our inside sales people.
TEL: (508) 583-7800
FAX: (508) 580-4542
TOLL FREE: 1-800-521-8881
Our minimum order is $25 for pickup, or $150 for delivery.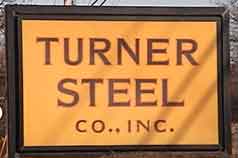 We deliver to Massachusetts, Rhode Island, New Hampshire, and Connecticut areas. Only certain areas of each state are covered. Please call to inquire.
We cut to order
Major credit cards are accepted.



Our Services
Saw Cutting, Shearing, Flame Cutting, Drilling, Threading, Punching, Bending, Welding, and Much More
Our Products Also Include:
Expanded Metal, Steel Grating, Stair Treads, Threaded Rod, Drill Rod, Stainless Steel, Aluminum, Brass, Round Tubing
"Our Strength is Our Service"
Since 1956 - Over 65 Years of Excellence